The Secret World of Charles Dickens
This video gives a one minute taster of The Secret World of Charles Dickens.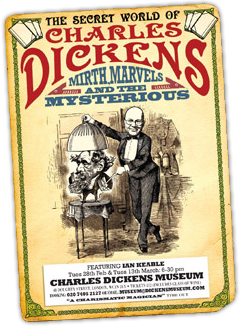 Welcome to The Secret World of Charles Dickens: mirth, marvels and the mysterious, a show featuring Ian Keable and first premiered at the famous Charles Dickens Museum in London.
Charles Dickens was not only one of the world's greatest writers, but also a talented magician and fascinated by spiritualism and ghosts.
In this humorous and mystifying show, Ian Keable reveals this secret side of Dickens and recreates his favourite tricks and the spooky practises of the Victorian psychics. The show is completely self-contained. All the sound, lighting and publicity (in the form of A4 posters and A5 flyers) are provided absolutely free.
A review in The Islington Tribune wrote as follows: "The Secret World of Charles Dickens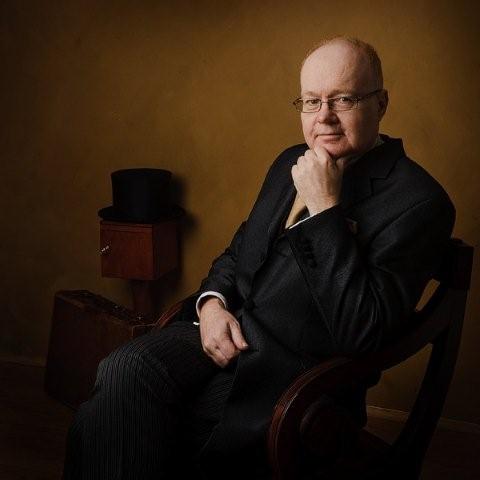 is enlightening, entertaining and engaging. It's a magic show balanced in educational reveals and mind-bending sleight-of-hand mysteries, with a spooky Victorian literary twist."
For the full review click here.
Ian has spoken about Charles Dickens and his conjuring to the Dickens Fellowship and also at the prestigious International Conferences Dickens Online Journal and The Other Dickens. In 2012 he published a paper on 'Dickens, Spiritualism and the Cock Lane Ghost' in Dickens 200 - Text and Beyond.
When Ralph Fiennes was directing and starring in The Invisible Woman (a film about Dickens' mistress Ellen Ternan) it was Ian Keable he first turned to for magical advice about the project.
He is an
accredited lecturer for NADFAS
where amongst his other
talks
he does one on
Charles Dickens Conjuror: The Playbills of Victorian Showmen
. In 2014 he wrote
Charles Dickens Magician: Conjuring in Life, Letters & Literature
. This is available to buy on
this site
.
We all thoroughly enjoyed your show, the feedback forms all said "excellent". People who came have been telling everyone else how good it was, so we may well book you again next year.
The show is now available for booking, whether it be in a theatre, art centre or village hall. Please contact
Ian Keable
for enquiries.
Faqs
Do I need to have read any of Dickens' books to enjoy the show?
No. The show assumes no familiarity of Dickens whatsoever; but even those who do consider themselves knowledgeable about him will learn some fascinating information.
Am I going to see a lecture or a recitation?
Neither! The primary aim of the show is to be entertaining and fun; with plenty of interaction with the audience. There are no tedious power point presentations or reading extracts from books.
There are two 45 minute halves with an interval.
Is it possible to book a shorter version of the show?
Absolutely! As well as the full-length show, Ian has done many lectures, talks and performances on Dickens' interest in magic and spiritualism. Just get in touch to discuss what you are looking for.
Is it suitable for children?
No. Both the sophistication of the language and humour and some of the content (especially that relating to spiritualism) make it unsuitable for anyone under 14. Recommended minimum age is 16. However Ian has devised a talk/presentation specifically for schools. Check out
Schools
on the main menu.
REVIEW FROM CAMDEN NEW JOURNAL
THE SECRET WORLD OF CHARLES DICKENS
Lauderdale House
by LAUREN GEISLER
I HATE magic. I want to know how everything is done and want to be able to do it myself. I want to divert people's attention with my mesmerising patter whilst I use sleight-of-hand to pull rabbits out of hats. But I can't.
Fortunately for north London, Inner Magic Circle member and comedy award winner Ian Keable can. Except for the bit about the rabbit.
The Secret World of Charles Dickens sees Keable combining his competent and amusing skills as a magician with his own fascination with the life and work of the prolific writer.
Keable lifts the lid on the secret methods of Victorian psychics and Dickens's own love of uncovering the tricks and tools of spiritualists and conjurers, whilst reading excerpts from novels, poems and correspondence of the 1800s in an authentic parlour-room atmosphere.
The attic space at the 16th-century Lauderdale House provides the perfect setting for a show which grows darker and chillier as the night outside does (although the broken boiler may have been somewhat to blame).
Dim lighting, exposed beams and being able to step out of the show into the historic grounds of Waterlow Park all add to an immersive experience.
Despite being exposed to my two biggest fears – audience participation and a maths challenge – The Secret World of Charles Dickens is enlightening, entertaining and engaging.
It's a magic show balanced in educational reveals and mind-bending slight-of-hand mysteries, with a spooky Victorian literary twist.
And not a single rabbit in sight.